ROADSIDE ASSISTANCE
1800-102-2955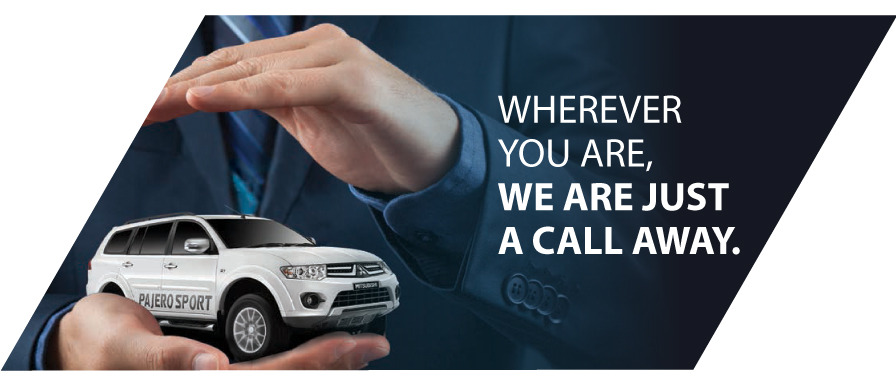 Mitsubishi Roadside Assistance – Peace of Mind Motoring 24hrs / 7days While it is our sincere hope that your travels are always trouble-free, breakdowns & road traffic accidents do happen-our goal is to ensure that even if your Mitsubishi vehicle is immobilized, whether at home or while traveling, any inconvenience to you and your family is minimized.
Getting Help – What to do when you need Assistance? In the event of a breakdown or accident, simply call Mitsubishi Roadside Assistance on 1800-102- 2955* (toll free from anywhere in India). *ln case of difficulty in reaching this toll free number from your phone network, please dial 01244012955. (Call charges apply)
Duration of the Roadside Assistance Program The Roadside Assistance is available for duration of 24 months from the date of purchase of the program. This Roadside Assistance can be bought through your authorised HMFCL-Mitsubishi Dealer, any time irrespective of vehicle warranty period. Owners of Mitsubishi vehicles which are less than five years (0-5 years) from the date of sale are eligible to purchase this Roadside Assistance' program through a special registration.
Coverage: Mitsubishi Road side assistance is covered 200 kilometer from Mitsubishi authorised dealership and it is free for first two years of vehicle purchase
COVERED EVENTS
Human Error Problems
Battery: Flat battery
Fuel : Out of fuel, incorrect fuel or contaminated fuel
Key problems: Tyre problem: Puncture, bolts or valve related issues
Mechanical or electrical breakdown leading to stoppage / immobility of the vehicle
Road traffic accident where the vehicle is immobilized


Assistance will be provided no matter where you are (i.e. at home, on the roadside, on the highway, in a parking lot, etc), as long as you are not already at an authorised HMFCL-Mitsubishi Dealer and you are not beyond 200 km of any authorised HMFCL-Mitsubishi Dealer.
SUMMARY OF CUSTOMER BENEFITS
Roadside Assistance at home or on the road
Vehicle Recovery: If your vehicle is unable to be mobilized following a mechanical or electrical breakdown, a recovery vehicle will be sent to recover your vehicle to the nearest authorised HMFCL- Mitsubishi Dealer.
Taxi Benefit: If your vehicle is recovered to a dealer by Mitsubishi Roadside Assistance, the driver and passengers will be provided with one free taxi ride, up to 50 km from the breakdown location, in order to continue your journey.
Vehicle Recovery following an Accident: If your vehicle is unable to be mobilized following a road traffic accident, Mitsubishi Roadside Assistance will organize to send a recovery vehicle to recover your vehicle to the nearest authorisecd HMFCL-Mitsubishi Dealer.
Covered Customers: The owner (or driver) and all the passengers traveling in the vehicle at the moment the emergency assistance was required, up to the legal passenger limit of the vehicle. Vehicles sold by unauthorised dealerships, and any vehicles originally sold (as a new car) in any other country other than India, are not eligible for the assistance services and benefits.<
Non-covered Events: Mitsubishi Roadside Assistance is designed to help in events that lead to stoppage/immobilization of your vehicle. As a result, this program will not cover any of the following events that you may encounter while driving your vehicle:
Faulty fuel gauge Speedometer not working
Air-conditioning is not working
Passenger door(s) cannot be opened when there are no passengers in the vehicle
Boot cannot be opened
Front and/or rear demisters are not functioning


Horn is not functioning
Damaged door mirrors
Rear view mirror is damaged but it does not obstruct the driver's vision
Damaged or faulty fuel cap but vehicle has not run out of petrol and there is enough fuel in the tank to enable the vehicle to reach the nearest authorised HMFCL-Mitsubishi Dealer Sunroof cannot be opened Sunroof cannot be closed but weather conditions are fair and the vehicle is not exposed to any security risk
Windows cannot be opened/closed
Windows cannot be closed but weather conditions are fair and the vehicle is not exposed to any security risk
Seat adjustor is faulty but the vehicle can be safely driven
Passenger seat belts are faulty but there are no passengers in the vehicle
Faulty security system unless the vehicle is immobilized or unless the alarm is sounding continuously
Air bag warning lights are illuminated
Traction control lights are illuminated and other non-safety related lights/ service warnings are illuminated
Vehicle runs out of windscreen wiper fluid
Front windscreen wipers are faulty but weather conditions are fair


Rear windscreen wiper is faulty
GENERAL EXCLUSIONS
There are general exclusions under the Mitsubishi Roadside Assistance, and the Company will not be responsible for any assistance as a result of anything like adverse weather conditions, external factors, locked keys, etc.


Mitsubishi Peace of Mind Roadside Assistance Plan
Special Features:
Peace of Mind motoring
Removes unexpected and non-budgeted costs of breakdown


Can be transferred, hence increases the resale value